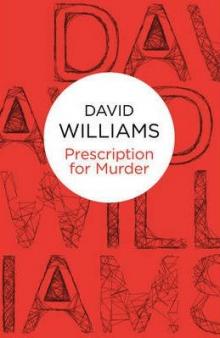 Reviews
"An ingenious puzzle"
"David Williams consistently offers well-crafted English mystery novels, polite, amusing and socially observant"
Prescription for Murder
David Williams
Mark Treasure took on the Chairmanship of pharmaceuticals company, Closters, as part of the arrangements for the management buy-out. It had been given a new lease of life after floundering in the highly competitive world of manufacturing and selling drugs. Quite some team! Managing Director Bob Larden had the ambition and the lifestyle to drive the whole enterprise forward. He brought in Dermot Hackle to give the Marketing oomph he needed. Dermot with his good looks, wandering eyes and poor head for finance, particularly his own, and a 'mouse' of a wife. Giles Closter-Bennet is the Finance Director, who emphasised his long standing connection to the company by incorporating his wife's family name into his own. Hugh McFee is Production Director, making sure it all ticks along and neither he nor his wife have forgotten their Scottish heritage.

However, it's the chemistry of the company that has aroused interest. Divorcee, Dr Mary Racini is Medical Director and Stuart Bodlin, with his long time in the company, has finally come good on the freedom he was given to explore and invent. Seromig is a new drug for the treatment of migraine, which promises major success, and there are other projects in the pipeline. Now is exactly the time to take the company public. Quite a few are looking to make a killing. Rich pickings, just rewards. Not everyone thinks so.
It's all about the drugs…
more...
Cranks, criminals or competitors?
more...